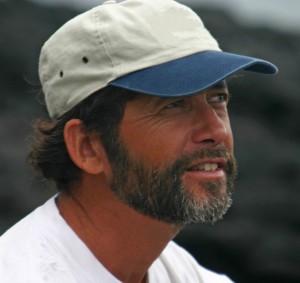 Born in the United States, Greg Estes first arrived in Galapagos in 1982 leading the Cambridge Darwin Centenary Galapagos Expedition to conduct research on the feeding ecology of marine iguanas. With a degree in Biology from the University of London, England, Greg stayed to assist with several other ecological projects, including studies on sperm whales and the endangered Galapagos petrel. For the past few years Greg and his wife Thalia have been retracing Darwin's footsteps through Galapagos using information from his original notebooks and manuscripts of the famous voyage. Their research was published in "Notes and Records of the Royal Society", September 2000 and was the basis of their book Darwin in Galapagos: Footsteps to a New World, published by Princeton University Press in 2009. Greg has lectured extensively on Darwin's voyage, including giving a talk at the 80th annual meeting of the Pacific Division of the American Association for the Advancement of Sciences held at San Francisco State University in 1999. Greg and Thalia recently gave a seminar talk about their work on Charles Darwin in the Galapagos Islands at Simon Fraser University in Canada.
Greg has served as a licensed naturalist guide of the Galapagos National Park Service since 1982 and continues to work as naturalist and expeditions leader in the islands. He is in high demand by university and natural history organizations alike and among the institutions he has guided/led are the Harvard Museum of Comparative Zoology, World Wildlife Fund, National Geographic, Stanford University, Johns Hopkins University, Nature Conservancy, St. Louis Zoo, Chatham College, Agnes Scott College, Washington & Lee University, New York Botanical Gardens, New York Audubon Society, Milwaukee Zoo, Staten Island Zoo, North Carolina State Museum of Natural Sciences, Georgia Conservancy, University of Georgia, and the Dayton Museum of Natural History. Notable people Greg has guided include Richard Leaky, Queen Beatrix of the Netherlands, Sir John Krebs, Craig Venter, Sylvia Earle and Dan Rather. He has also worked with several film companies including the BBC, Discovery Channel, National Geographic, NOVA and VPRO. He has guided actors Richard Gere, Richard Dreyfuss, Cliff Robertson, Elkie Sommer and Emmy Award winning film producer Howard Hall.
Through his own work with video Greg actively promotes the protection of the Galapagos environment. He has produced a general interest DVD about Galapagos entitled Galapagos: Suited for Survival.
Greg's footage features in the National Geographic's Wild Chronicles; Galapagos Volcanoes, a sample of which can be viewed below.
Greg has travelled extensively in North, Central and South America, and Europe and has worked as a naturalist in the Falkland Islands, South Georgia and the Antarctic. His explorations have included an ascent of Cotopaxi in Ecuador, which is one of the highest active volcanoes in the world. Greg lives in Galapagos with his wife Thalia.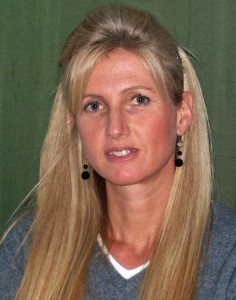 Born in Canada, Thalia Grant first went to the Galapagos islands as a child of six, accompanying her parents Drs Peter and Rosemary Grant at the beginning of their long-term study of Darwin's finches. Between 1973 and 1996 she made annual visits to Galapagos, of 2 to 6 months duration, initially to assist with her parents' field research and later to conduct ecological studies of her own. These field studies have afforded her a unique and intimate knowledge of almost every island in Galapagos. With a degree in biology from the University of California at Santa Cruz, she has published her research on the Galapagos dove, Galapagos lava lizard and Darwin's visit to the islands in 1835. She has also studied the social behavior of the Galapagos fiddler crab and the diet of the short-eared owl. In 1991 she conducted and published a population study of reptiles on Stephens Island in New Zealand and guided HRH Prince Philip on a tour of this WWF sponsored project. With her husband Greg Estes, Thalia retraced Darwin's footsteps through Galapagos using information from the original notebooks and manuscripts of the famous voyage. Their research was first published in "Notes and Records of the Royal Society", September 2000. Thalia is co-author of the book Darwin in Galapagos: Footsteps to a New World. She has also written an article on Charles Darwin and Galapagos for the October 2009 issue of UNESCO's quarterly review; Charles Darwin and the Galapagos: The evolution of a legacy. Her transcription of Darwin's geology notes from Galapagos features at DARWIN ONLINE.
Thalia has been organizing trips in Galapagos for over 12 years. Her clients have heralded from all walks of life and have included university professors, students, film groups, and CEOs. Thalia also works as a free-lance scientific advisor.
Thalia has travelled extensively through Europe, including Scandinavia, and North, Central and South America and New Zealand. An accomplished artist, her illustrations of Darwin's finches feature in the Pulitzer Prize winning book The Beak of the Finch by Jonathan Weiner.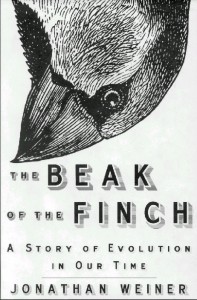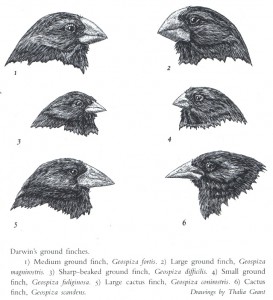 Thalia was script and content editor for the BBC's 3-part television production GALAPAGOS and their accompanying book, Galapagos: The Islands that Changed the World.